Results from the PRIMAVERA user survey
We conducted an online survey within the PRIMAVERA project as a first step towards understanding user needs for weather and climate information. The survey was aimed at a broader audience and used the questions and the language applicable for different user profiles. Altogether 83 responses were received from the participants from 12 different EU countries. Here are some of the answers we received.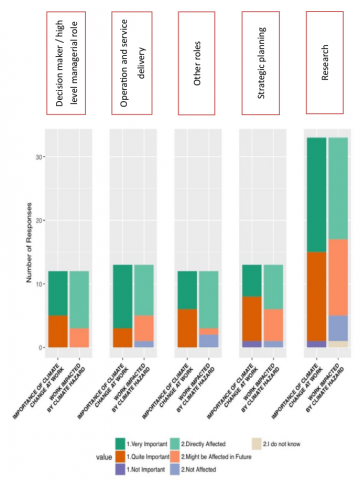 We asked participants how important weather and/or climate change was to their personal work and for the professional decisions they made. We also asked them if at present, climate or weather hazards had an influence on the work of their organisation. For 55% of the participants weather and/or climate are very important for their personal work or for the professional decisions they make and for 42% it is quite important.
Figure 2 presents where different participants access data from and what they use it for. The participants used these types of weather/climate information mostly because it improved the quality of their decision-making and secondly because this information was available to them.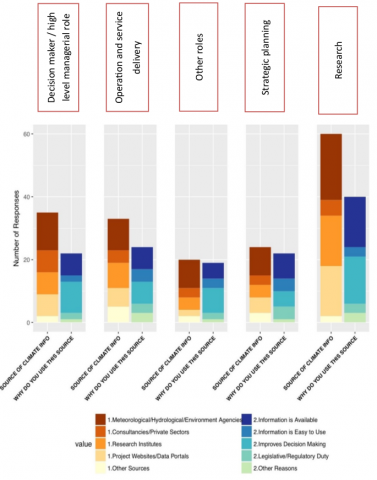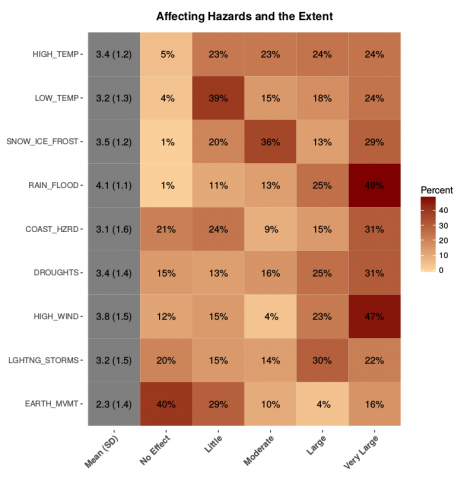 Figure 3 is a heatmap that shows the extent of the effect of various climate hazards on the participant's work or their organisations. It shows that almost 50% of the participants are mostly affected by rainfall and rainfall related floods (Rain flood). Another 25.3% and 13.3% of the participants were largely or moderately affected by rain flood, respectively. High winds are another major climate hazard with 46.7% of participants being affected by it to a very large extent and 22.7% being affected to a large extent. Other hazards such as high or low (extreme) temperatures, snow, ice and frost, coastal hazard, droughts and lightning storms are also of concern to the participants as over 40% said they were affected by these hazards to a large or very large degree.
Fig 4 provides a breakdown of the extent of climate hazards divided into 5 specific sectors: energy, transport, insurance, agriculture and water resource management. It can be noticed that coastal hazards clearly affect insurance sector (88%) to a greater extent than the rest of the sectors. Similarly, 70% of the participants in agriculture agreed that high temperatures affect them to a large or very large extent. All the participants from from this sector agreed that droughts significantly affect them. Thus, while also important to other sectors, high temperatures and droughts are climate hazards of major concern for the agricultural sector. Rainfall and rainfall related flooding is the climate hazard of greatest concern to the participants. Indeed it has major effects on all the sectors, except for energy where only half of the participants said they were significantly affected. High winds, on the other hand, are of greater concern to the energy, transport and insurance sectors than to agriculture and water resource management. Finally, earth movements as seen before, are a minor concern to all the sectors with an exception of the transport sector, where for 39% of the participants earth movements have large or very large impacts on the work of their organisation or the sector.